BeagleBoard-xM
What is BeagleBoard-xM?
The $149 MSRP BeagleBoard-xM delivers with the help of its AM37x 1GHz ARM processor, enabling hobbyists, students and innovators to bring a project to development fast. Designed with community inputs in mind, this open hardware design brings the previous generations' laptop-like performance and expandability to the next level, while adhering to hand-held power levels. Direct connectivity is supported by the on-board four-port hub with 10/100 Ethernet, while maintaining a tiny credit-card-sized footprint.
More than 2,000 Dhrystone MIPS
Up to 20 million polygons/second graphics
HD video capable C64+TMDSP core
512 MB LPDDR RAM
Connectivity
2D/3D graphics accelerator
4 USB 2.0 ports
MMC/SD connector
DVI-D port
S-Video port
USB mini AB connector
Ethernet
Software Compatibility
Angstrom Linux
Android
Ubuntu
XBMC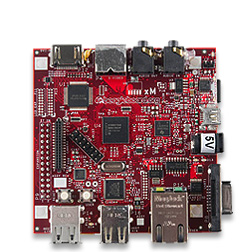 BeagleBoard-xM Projects
BeagleSNES turns the BeagleBoard-xM into an embedded Linux-based appliance capable of playing Super Nintendo game titles
BeagleBoard-xM robotic camera platform that can track vehicles at over 30MPH. Developed as part of the TiroKart project, could also be used as a powerful BeagleBoard-based platform for robotics development
Additional PCB to connect LVDS LCD panel to BeagleBoard and BeagleBoard-xM. Provides simple interface to LVDS LCD panels like those in notebooks.
See More Projects
»
Hardware Specs and Materials
Browse the BeagleBoard-xM wiki to find all available hardware specifications such as:
Bill of Materials
PCB Files
MFG Files
Schematic (PDF)
Schematic (OrCAD)
System Reference Manual
Videos
BeagleBoard-xM Intro
Getting started with Beagleboard-xM: Angstrom Linux on Beagleboard-xM, required peripherals, how to interface to external peripherals and their cost.
BeagleBoard-xM, 6 Angstrom Linux Desktop Sync
Create a mega display wall, combining several displays. The mouse is synchronized accross 6 ARM-powered Ubuntu desktops through synergy, and an ffmpeg synchronization app makes it possible to combine them into a video wall.