BeagleBone® AI-64
64-bit BeagleBone® for High-Performance Embedded Computing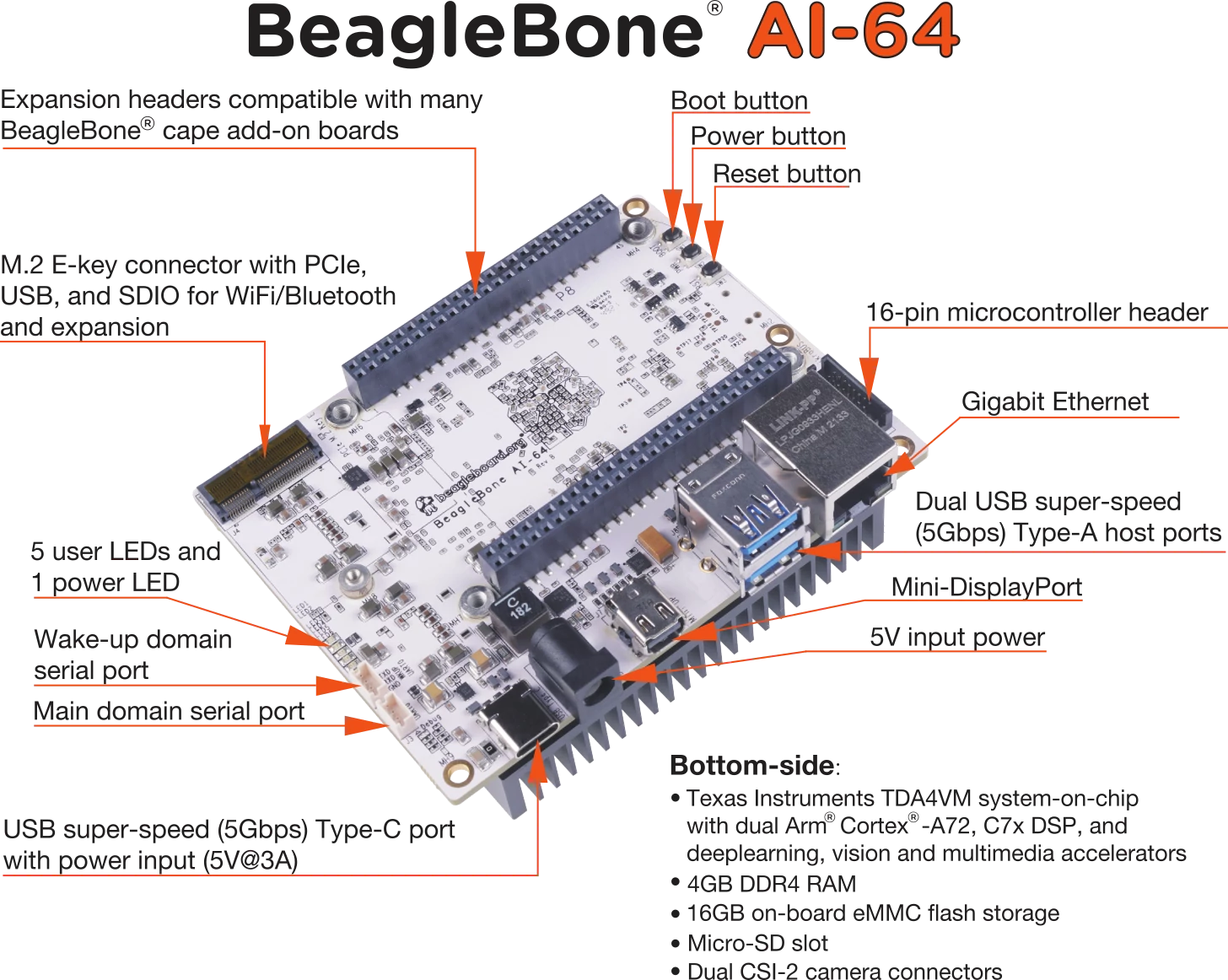 What is BeagleBone® AI-64?
BeagleBone® AI-64 brings a complete system for developing artificial intelligence (AI) and machine learning solutions with the convenience and expandability of the BeagleBone® platform and the peripherals on board to get started right away learning and building applications. With locally hosted, ready-to-use, open-source focused tool chains and development environment, a simple web browser, power source and network connection are all that need to be added to start building performance-optimized embedded applications. Industry-leading expansion possibilities are enabled through familiar BeagleBone® cape headers, with hundreds of open-source hardware examples and dozens of readily available embedded expansion options available off-the-shelf.
Dual Arm® Cortex®-A72 microprocessor subsystem @ 2GHz
C7x+MMA (8 TOPS) and 2 C66x floating-point VLIW DSPs
3x dual Arm® Cortex®-R5 co-processors
2x 6-core Programmable Real-Time Unit and Industrial Communication SubSystem (PRU-ICSSG)
PowerVR® Rogue™ 8XE GE8430 3D GPU
Accelerated video codecs (2x 1080p30 H.264 encode, 8x 1080p30 H.264/H.265 decode)
Board Feature Highlights
BeagleBone Black header compatibility
4GB RAM and 16GB on-board eMMC flash with high-speed interface
USB type-C for power and superspeed dual-role controller; and 2x USB superspeed type-A hosts
Gigabit Ethernet, M.2 E-key for WiFi/BT expansion
miniDisplayPort, 2x 4-lane CSI, DSI
Zero-download out-of-box software experience with Debian GNU/Linux

Last updated by default on Wed Sep 06 2023 12:18:58 GMT-0000 (UTC).