BeagleBoard
What is BeagleBoard?
The $125 MSRP, USB-powered BeagleBoard features an OMAP3530 720MHz ARM Cortex-A8 processor, NEON and VFP extensions for additional acceleration, POWERVR™ graphics hardware, high-res video and the capability to stream with a portable media player. Work with all of the functionionality of a laptop in a single tiny package.
(>1GHz ARM11 MIPS)
NEON and VFP extensions for additional acceleration
Connectivity
USB 2.0 on-the-go (OTG) port
Connect standard peripherals to USB using any of the following:

A mini-A to standard-A cable adapter
DVI-D using an HDMI to DVI-D adapter
MMC/SD/SDIO connector enabling a complete desktop experience
Software Compatitbility
Angstrom (Open Embedded)
Debian
Ubuntu
Gentoo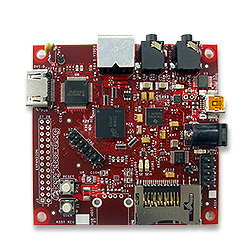 BeagleBoard Projects
Start writing Linux applications quickly with the Mentor Embedded Linux Kit for the BeagleBoard
Create a self-contained software defined radio Ham Radio Station featuring an LCD touchscreen
The real-time framework OpenRTDynamics enables data acquisition and processing (filters, state machines, data analysis) as well as remote monitoring/control capabilities
See More Projects
»
Hardware Specs and Materials
Browse the BeagleBoard wiki to find all available hardware specifications such as:
Bill of Materials
PCB Files
MFG Files
Schematic (PDF)
Schematic (OrCAD)
System Reference Manual
Videos
Setting up a BeagleBoard
Andy Powers from Symbian shows how easy it is to set up a BeagleBoard.
BeagleTouch and Beagle Board demo running GIMP on Linux
The BeagleTouch interfaces directly with the BeagleBoard and boots into a GUI desktop, which can be used like a tablet or handheld device.